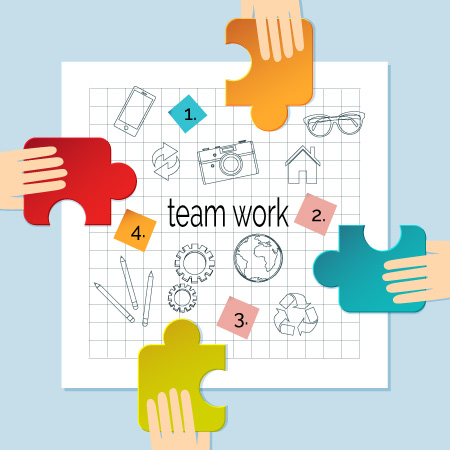 There is a lovely saying by Will Rogers: "Good judgment comes from experience, and a lot of that comes from bad judgment." Having worked with clients, big and small, in the commercial trades industry, we've noticed patterns in "bad judgment" - or rather mistakes - that small businesses tend to make much more frequently than larger ones.
So, we've decided to put them together in a comprehensive list of the most common faux pas that we've been coming across. Do any of them apply to you?
1. Neglecting your company's online presence.
If your website looks like it was built in the 90s, your brand is not present on social media, and you have no idea how to generate and capture leads online, you are missing out on a world of opportunities.

93.1% of the Australian population uses internet, which means it is practically guaranteed that your targeted clients are browsing the web on a daily basis. A website is your digital business card. It will not only tell your potential client how and where to find you, but, if built right, will convince these potential clients to use your services over those of your competitors. Displaying testimonials and case studies, running a corporate blog, including photos and videos – these are the elements that create a digital experience. The same way you would want your physical shop to make the best possible impression on potential customers, so should your website.Furthermore, keep in mind that 33.15% of the time people spend on the internet is via a mobile device, which means you need to ensure your website is optimized for mobiles.

However, having a sleek website is no longer enough. Your company should also be present on social media. 93% of the eligible population in Australia is on Facebook, yet only 32% of small- and medium-size businesses are present on this platform. You don't have to be a savvy marketer to know that by failing to showcase your business on social media, you are missing out on a great exposure opportunity. If you would like to learn how to generate leads and grow your business using Facebook, make sure to check out this article.
2. Failing to automate your admin processes.
'Small business' does not mean 'small data.' Even having a staff of 8 people results in a massive amount of information and transactions that you have to take care of on a daily basis, not to mention all the data coming from the client management side. If you are handling all this data manually – and by that we mean storing everything in separate spreadsheets in countless folders on your computer and updating five different files with the same piece of data – you are hurting your business: (1) You are making your business growth that much more difficult. The more clients you have and the more employees you hire, the more data you will have to deal with. Doesn't it make more sense to create a system that would be agile and automate data management from the start? (2) As a small business owner, time and money are probably your two most scarce resources. You feel overstretched, overworked, and understaffed. You have to make the most efficient use of your financial resources and your limited staff. Refusing to un-complicate your life by automating admin processes means you are wasting your time and that of your employees – time they could be spending billing clients.

The good news is that automating your business processes is really simple these days. For example, EMAC software allows you to manage jobs, staff schedules, timesheets, inventory, suppliers, purchase orders, and jobs' financials in one place from any device. If you input data such as 'costs' in one place, it will automatically appear in all other relevant places, eliminating the need to manually insert it in multiple spreadsheets. EMAC's full integration with Xero means you can manage all your invoices and keep your financial information up-to-date without having to log into multiple software.
3. Ignoring the issue of corporate culture.
You may be a small business, but that doesn't mean that the notion of a 'corporate culture' does not apply to you. Say you only have 4 employees. Do you want these employees to be engaged or simply clock in their 8 hours a day with minimum effort? Do you want your employees to take initiative? Do you want them to represent your company's values when communicating with clients? These are all elements of a corporate culture, and your business is never too small to nurture it.

According to Deloitte's Global Human Capital Trends report for 2016, 82% of CEOs and HR leaders believe that "cultureis a potential competitive advantage." The reason is really not complicated. 'Corporate culture' is not simply a feel-good concept. It is a way for business leaders to improve efficiency, retain staff, and positively impact the bottom line. Given the fact that, as a country, we face a shortage of skilled labour, as a small business you are hurt that much more by high turnover of employees than a large company. Therefore, don't wait too long before you give some serious thought on how to improve employee engagement and what kind of corporate culture you'd like your company to have.
4. Failing to chase payments.
Did you know that, as a nation, Australia ranked at the bottom of the table behind other nations including the US, Canada, Mexico, Ireland, and Denmark when it comes to invoice payment? It is, in fact, the number one problem small businesses face and how could it not! Late payments result in disruption in cash flow and we don't need to tell you how stressful that can be.

That's why as a small business owner, you have to get proactive. Make sure you have a clear and strict payment policy in place, which penalizes late payers. Once you create such a policy, get yourself and your staff in the habit of communicating it to your clients. Finally, don't be afraid to pick up the phone and chase those late payments. It may feel uncomfortable at first, but we bet it's much less of an inconvenience than staying up at night trying to come up with a solution to your cash flow problem and figuring out how to pay your employees on time.
5. Refusing to delegate.
If you run a small business, especially if you are the one who founded it, you are likely heavily emotionally invested in it. It makes sense. You've built it, you've hired every person, you were probably the one to close the first client. You are taking an active part in every aspect of your business. As a result, you feel overwhelmed. You find yourself unable to leave your work behind and think about it even when you are with family and friends. This is a dangerous path. Mental stress costs Australian businesses more than $10 billion per year, which is a combination of both health problems created by stress as well as reduced productivity. While you may think that everything will collapse if you do not personally oversee every process in the company, it is crucial that you find a way to delegate tasks. Spend some time training your employees and then trust them to take over.
Sources:
http://www.internetworldstats.com/sp/au.htm
http://blog.marginmedia.com.au/our-blog/australian-internet-and-social-media-statistics-january-2016
http://www2.deloitte.com/us/en/pages/human-capital/articles/introduction-human-capital-trends.html
https://insidesmallbusiness.com.au/finance/the-states-of-invoice-payment
http://www.smh.com.au/small-business/finance/late-payers-the-silent-killer-of-small-businesses-20160713-gq4rtm.html
http://www.safeworkaustralia.gov.au/sites/swa/media-events/media-releases/pages/mr08042013